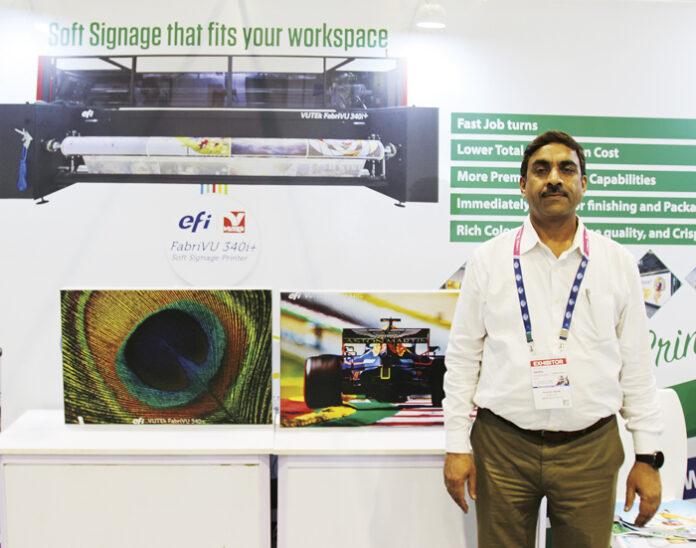 A pioneer in digital printing, at the recent Gartex show in Delhi, Arrow Digital spoke about the Kornit Avalanche Poly Pro and Efi dye sublimation printers garment printing. The Kornit Avalanche Poly Pro is specially designed for dark polyester printing. Its specialty is ink that is specially designed for printing on dark polyester and for curing at very low temperatures. This ink helps to avoid dye migration on polyester but is slightly more expensive than other inks.
The Efi Fabri VU 340i+ is a dye sublimation printer mainly aimed at home furnishing and soft signage with its first installation at Caterpillar Signs. A big advantage of this machine is its inbuilt curing system. While speaking about the Efi Fabri VU 340i+, Prakash Chopra, senior vice president of Sales at Arrow Digital, said that the company has installed three machines in the country so far – two in Caterpillar and one in Macromedia, Hyderabad. He suggested that there are several prospects in the pipeline for installing the Fabri VU 340i+ in various parts of India.
Sustainability
Chopra added, "The market for dye sublimation printing is gradually increasing because it is 100% green and since the ink is also water-based. One deal is finalized, and our next machine would probably be installed in Mumbai with the other somewhere in North India."
"In this exhibition, we are expecting to create awareness. We are here for our presence since we haven't kept any machines in our stand. Visitors are coming with their queries related to Kornit and Fabri VU because Fabri VU is the future technology for which everyone is looking. Many countries like America, Australia, and Europe have adopted this technology. However, India is slightly lagging, but here we're getting good responses and queries from the industry visitors," he concluded.