In what has become a rite of passage for many newly minted designers, 2022 marked a milestone in the annual design competition launched by the Supima organization. Fifteen years in the making, this past September during New York Fashion week, the Supima Design Competition lived up to the publicity of its annual runway competition featuring recent graduates from the leading design schools across the country.
Billed as the most exciting and inspiring competition to date, the Supima Design Competition saw eight finalists compete for the top prize of $10,000 along with the invaluable press and exposure to the global fashion industry. And although each collection that walked the runway was truly brilliant in its own right, there could be only one winner and this year's prize went to Parson's graduate, Taku Yhim.
Yhim wowed the judging panel at this year's show with his breathtaking collection of eveningwear inspired by the Japanese Samurai. The meticulous and elaborate process of layering fabric upon fabric showed complexity and innovation that ultimately gave Yhim the win.
The other seven finalists included:
• Candice Tianyu | Academy of Art University
• Chan Kyoo Hwang | Drexel University
• Fabian Renteria | Fashion Institute of Design and Merchandising
• Bryan Barrientos | Fashion Institute of Technology
• Antonia Bruno | Kent State University
• Hu Jun Yi | Rhode Island School of Design
• Michelle Sumin Suh | School of the Art Institute of Chicago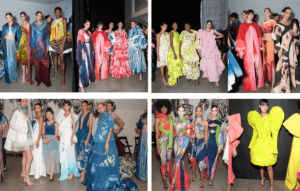 Hosted by award-winning Council of Fashion Designers of America (CFDA) designer, Christian Siriano and supermodel and entrepreneur, Coco Rocha, this year's competition was held under the bright lights of New York Fashion Week at the Gallery at Spring Studios. In addition to Siriano and Rocha, judging this year's competition featured a who's who of fashion industry leaders and press including Ann Caruso, Avril Graham, Cipriana Quann, Claire Thomson–Jonville, Edward Barsamian, Fern Mallis, Freya Drohan, Godfrey Deeney, Jeffrey Taylor (2016 SDC winner), Jerome Lamaar, Kelly Augustine, Lisa Lockwood, Luke Meagher, Mickey Boardman, Shibon Kennedy, and Tyler McCall.
The 2022 Supima Design Competition celebrated its 15-year anniversary with all the pomp and circumstance that goes with such an historic milestone. From the standing room only show to the multitude of media stories to the inspiring collections from all of this year's finalists the 2022 SDC exceeded expectations. With such extraordinary talent showcased at this year's show, the fashion industry has a bright future. Congratulations to Supima Design Competition winner Taku Yhim and to all finalists that worked tirelessly on their inspiring collections.