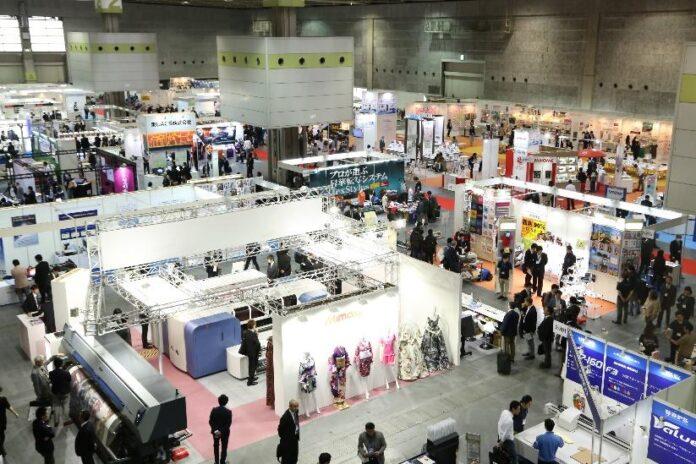 JIAM 2022 OSAKA, organized by the Japan Sewing Machinery Manufacturers Association (JASMA), will soon be held at INTEX OSAKA from 30 November – 3 December 2022. Under the theme of "It all connects at JIAM – the forefront of technology and master craftsmanship", the 12th edition brings together leading sewing machine suppliers and apparel manufacturers, making it a must-attend event for textile professionals. In this era of change, an international platform to facilitate business and information exchange is essential. The 2022 edition will showcase apparel manufacturing solutions catered to each and every need, combining high-level skillsets and time-tested knowledge with the latest modern-day technology.
As of October, 144 exhibitors from 10 countries and regions (China, Greece, Germany, Hong Kong, India, Italy, Singapore, Taiwan, and Thailand) have signed up for JIAM 2022 OSAKA to showcase their latest products and services. Of these, 39 companies (21 domestic, 18 overseas) will be joining the fair for the first time. In addition, two pavilions from Germany (VDMA; Mechanical Engineering Industry Association) and Taiwan (TSMA; Taiwan Sewing Machinery Association) will bring even more product diversity to the show floor. The previous edition of JIAM OSAKA in 2016 welcomed 258 exhibitors from 15 countries and regions as well as 15,257 visitors from 72 countries and regions, mainly from Bangladesh, China, India, Korea, Taiwan, Sri Lanka, and Vietnam.
A wide variety of special seminars
11 special organizer seminars will not only provide relevant industry knowledge but also offer practical skills for daily work. All seminars are free with a capacity of 150 seats and include interpretation in Japanese and English. Visitor pre-registration is now open via the official website. Some highlights include:
30 November, 13:30 – 14:30 – Manufacturing industry and digital technology
Mr. Atsushi Yasuda, Manager of the Ministry of Economy, Trade and Industry Manufacturing Industries Bureau, Industrial Machinery Division
1 December, 11:00 – 12:00 – Skills training seminar
1. Twist Jacket (Lapel) pattern and matching sewing (front and shoulder seams)
2. Shoulder keeper (prevent shoulder collapse) cherish a piece of clothing
Mr. Susumu Inarida, Emeritus Professor of Bunka Fashion Graduate University (BFGU) / Specially Appointed Committee Member of Japan Modelist Associate / Contemporary Master Craftsman Certified by the Ministry of Health, Labor and Welfare
2 December, 11:00 – 12:00 – "Mottainai!" sustainable initiatives from Osaka!
Common points between Senshu Towl and OSAKA KABAN and the future
Mr. Eiji Shinoda, President of Shinoda Corp
Mr. Kenji Fukuroya, Representative Employee of Fukuroya Joint Company, etc.
2 December, 15:30 – 16:30 – About the sustainable fashion community "NewMake"- Upcycling initiatives in collaboration with brands
Mr Tac Hosokawa, CEO of Story & Co.
3 December, 13:00 – 14:00 – Win-win strategy on underwear sewing, the viewpoint of BISEI SANGYO Co., LTD
Mr Toru Miyawaki, Managing Executive Officer of BISEI SANGYO Co. LTD / Chairman of Hikoneseni Cooperative
An Opening Ceremony will be held on 30 November at 9:20 in front of Hall 6 to wish all those involved in JIAM 2022 OSAKA success. The organizer, JASMA President Mr. Shinsuke Uchinashi will deliver the opening address.
Home Sewing Machine Zone
Catering to the B2C market, the Home Sewing Machine Zone, will feature major domestic household sewing machine suppliers. To promote the joy of sewing, a special workshop will be organised by Brother Industries Ltd, Janome Corp, JUKI Corp and JASMA covering topics such as the use of upcycled materials. As part of JIAM 2022 OSAKA's sustainable development goals, visitors will be taught to sew "cup sleeves" using discarded items and materials from the DIY brand WHTATNOT. Attendees will also learn about upcycling, the process of upgrading unwanted items into new products that are useful. Another highlight will be the awards for JASMA's "42th Home Sewing Competition for Elementary, Middle, and High School Students".