TSA – What is B-Tex showcasing at India ITME 2022?
We are displaying Auto-Cut-Pack System for Fabric Inspection and Packing Department with Italian 4 Point defect logging Software at Booth H7N9 in Hall7.
TSA – How helpful is this event for your company from the sales and other aspects?
ITME is always a great platform with lots of footfall since years. It had been always prosperous for us and we look forward to great business in the coming years as we have collaborated with an Italian company for the Auto-Cut-Pack system and Software.
TSA – What types of solutions does B-Tex provide for the textile industry?
"B-Tex" has created a niche for itself by designing specialized hi-tech Fabric Inspection and Packing machines for quality fabric manufacturers like M/s. Ramco Group, Premier Mills, Tesssitura Monti, Premier Mills, Raymond Zambaiti, Soktas, Alok Industries, NSL Textiles, GM Fabrics, Himatsinghka, Morarjee Mills, Jindal Denim, SRF Ltd,  D'decor, etc. and exported to many countries. We have also manufactured special Tailor-Made machines for Technical Textiles and Tensionless Inspection cum Winding machines for Knits, Lycra & Elastic fabrics with Italian technology.
TSA – What is the current status of the Indian textile industry (domestic as well as export Markets)?
After Covid, we have done marvelous business in Domestic as well as Export markets and look forward even better after ITME 22.
TSA – How was the company's performance in FY21-22?
B-Tex performance was beyond expectations in FY 21-22. We delivered Inspection machines and packing machines to some high-quality fabric manufacturers.
TSA – What are your plans to grow your business further in 2023? Approach for 2023
"B-Tex" Auto-Cut-Pack is the future of the Inspection & Packing Department. The all-new 4-Point concept of Mapping & Auto-Cut-Pack has provided the textile industry with the much-needed fillip that helps them increase production by 30%. "B-Tex" is collaborated with REALTIME Srl for 4-point Defect logging and Auto-Cut Software. We look forward in delivering the system to existing units to save lots of manpower, space, and time.
TSA – What is your expectation on growth in textile manufacturing and exports from India after the Indian government's increased focus on textile manufacturing?
We are looking good future of India in Textile manufacturing and exports, ATUFS and PIL had already supported the Industries and had increased exports to high levels.
TSA – Any Message to our readers?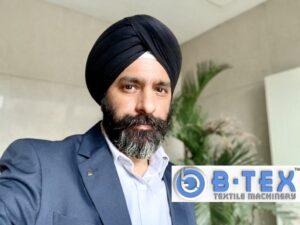 Automation is the need of the hour in the Fabric Inspection & Packing Department to reduce manpower and increase production with reports generation. "B-Tex Nirvana" helps you to achieve this with Italian Know-how and Software with the below benefits
2-3% A-Grade sound fabric saved
Reduces manpower by 40% in the Inspection & Packing Dept.
Increases production by 30%
ROI 6 months
Space reduction by 40%
It delivers 80,000 meters per day
Rejection reduces by 4-5%
Touch Screen defect entry. No manual entry issues.
Online reports: Daily, Production, Shift wise, Operator wise, Defect wise, etc.
Auto-Sample for Grouping & Shading
Auto-Barcode labeling
Saves extra cost on Contractor per meter per roll
5 Years Software and Hardware warranty.
Our message is to upgrade the traditional Inspection system with B-Tex Auto-Cut-Pack to know more, pls visit us at www.btexindia.com