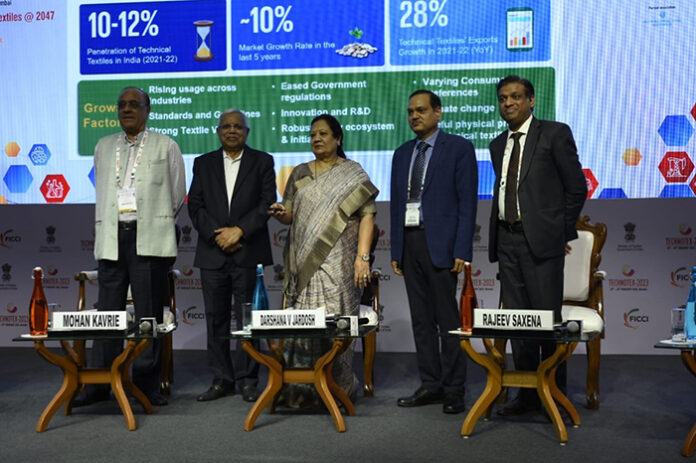 'Technotex 2023 – Envisioning Indian Technical Textiles @2047′, the 10th International Exhibition and Conference on Technical Textiles, was inaugurated by Union Minister of State for Textiles Darshana Jardosh at Bombay Exhibition Centre in Goregaon, Mumbai today. Technotex, organized by the Union Ministry of Textiles and Federation of Indian Chambers of Commerce & Industry (FICCI), is a flagship event comprising buyer-seller meets, an international exhibition and conference. The three-day event being held during February 22 – 24 will provide a common platform for interaction amongst stakeholders from across the global technical textile value chain.
Union Minister Darshana Jardosh also launched an e-book on Technical Textiles titled 'Technical Textiles Ecosystem in India: Market Overview, Inherent Linkages and Growth Opportunities' on the occasion. Check out the e-book here.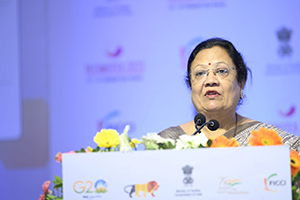 Addressing industry representatives and other stakeholders, the Union Minister of State for Textiles Darshana Jardosh said that the future of the textile sector is closely linked with the growth of the technical textile industry. The Minister observed that as the global technical textile industry continues to grow, India is poised to benefit from the expansion. Domestic consumption and export are both expected to grow rapidly in the next few years, making this an important time for the industry, she added.
"The Indian technical textiles sector is growing fast, the products are evolving with superior technical parameters"
The Minister pointed out that Indian Technical Textiles industry is expanding quickly in terms of output and value, and a variety of industries benefit from its products, including those in the automotive, agricultural, home care, construction, aerospace, protective gear, and healthcare sectors, among others as these products have improved functional qualities like greater tenacity and strength as well as better thermal and chemical resistance. "The end use of technical textiles caters to a wide variety of industries, thereby making it a high value sector in India".
MoS Textiles further informed that India is the third largest exporter of textile and apparel. "We have shifted gear from low value textile raw materials to high value upstream industries such as readymade garments, industrial and technical textiles".
MoS Textiles also stated that the Government is taking all necessary efforts to promote technical textiles with initiatives such as the PLI scheme, HSN Codes, National Technical Textile Mission, amongst others. "The Production Linked Incentive (PLI) Scheme for textiles for Man Made Fibre Fabrics & Apparel, and Technical Textiles is expected to attract investment of Rs. 19,798 crores for manufacturing. The response of the industry has been very encouraging."
The Minister further stated that the G20 Presidency of India can play an important role in strengthening our textile, apparel and merchandising industry. The Minister recalled that the PM GATI SHAKTI–National Master Plan is essentially a digital platform that would bring 16 Ministries including Railways and Roadways together for integrated planning and coordinated implementation of infrastructure connectivity projects such as Highways, railways, irrigation, power, renewable energy, irrigation, healthcare, etc. She said that PM Gati Shakti presents significant opportunities for technical textiles to be used extensively.
The Minister also mentioned the National Technical Textiles Mission which has an outlay of Rs. 1,480 crores. The key pillars of NTTM include 'Research Innovation & Development', 'Promotion and Market Development', 'Education, Training and Skilling' and 'Export Promotion'. "The focus of the Mission is for developing usage of technical textiles in various flagship missions and programmes of the country including strategic sectors".
New Guidelines Notified by Ministry of Textiles to Develop Knowledge Ecosystem and Promote Technical Textiles
The Minister informed that the Ministry of Textiles has recently notified Guidelines for Indigenous Development of Machineries and Equipment in Technical Textiles, to meet the diverse needs of textile industry and to make our nation Aatma  Nirbhar, by tapping local skill in design, engineering, fabrication and prototyping.
The Minister also informed that grant of up to Rs. 20,000 per student per month shall be provided to the empanelled companies for providing internships to B. Tech students in 2nd/3rd/4th Year of the relevant Departments/ Specializations of eligible private/ public institutes, under the General Guidelines for Grant for Internship Support (GIST). The implementation will be conducted in two phases,
Empanelment of the eligible Companies,
Internship Program, subject to the maximum period of 2 months of funding support for the internship period. Eligible agencies will be textile industries with a turnover of more than Rs. 10 crores, textile research associations under ministry and textile machinery manufacturers. The empanelled industries/institutions can give training to engineering institutes of concerned discipline in publicly funded institutions and also to private institutions with NIRF ranking up to 200. This move will support creating industry-trained engineers and professionals, and highly skilled workmen both for manufacturing and application areas of technical textiles, while also fostering academia – Industry linkages in the field of Technical Textiles.
The Minister informed that Guidelines for Enabling of Private and Public Academic Institutes in Technical Textiles will enable New Technical Textiles Degree Programme (UG & PG) and updating of existing conventional degree programmes with new papers on Technical Textiles. The Ministry intends to develop eco-system in technical textiles not only in textile field but other disciplines of Engineering like Civil, Mechanical, Electronics etc., Agriculture institutes, Medical Colleges, Fashion institutes. It would cover the funding of upgradation/enhancement of laboratory equipment, training of lab personnel and specialized training of Faculty members of the relevant department/specialization in the University/Institute, with respect to the undergraduate (UG) and Postgraduate (PG) degree programmes.
About Technotex- 2023, the Minister said that it represents a determined effort to turn India into a leading technical textiles production centre.
Joint Secretary, Union Ministry of Textiles, Rajeev Saxena said that a scheme for Technical Textiles Startups is being formulated. He stated that the National Technical Textiles Mission has been launched to overcome the weaknesses faced by the sector. One component of the mission is on R&D and the scheme is open for industry and research institutions. The Textiles Ministry through this Mission invites good proposals so that good technical textiles machinery can be made in India. The Textiles Ministry is working with other ministries to grow the market and promote exports of technical textiles, he added.
Mohan Kavrie, Chairman & Mentor, FICCI Technotex SME Organizing Committee said that the industry will work with the Government to foster a sustainable and innovative ecosystem which supports the growth of this industry.
R D Udeshi, Member, National Executive Committee, FICCI said there is a great opportunity for the Indian industry to participate in the expected global growth of technical textiles and become a key supplier in the global market.
The three-day exhibition cum conference cum buyer-seller meets seeks to envision Indian Technical Textiles at 2047. It exemplifies the immense potential for trade and investment between India and foreign countries in the technical textile sector. It pools in participants, visitors, and other key decision-makers from a diverse cross-section of the Technical Textiles Industry, aiming to provide more innovative solutions, identify new business opportunities and create an environment congenial for growth. Check out the brochure of the event here.