The new RadiciGroup industrial site in Suzhou, China has been officially opened. Designed to double capacity for manufacturing engineering polymers, the area will significantly step up the Group's presence on the Asian market as a key player serving numerous sectors – from the automotive and electrical/electronics industries to consumer and industrial goods.
The Group has had production operations in China since 2006, when it first opened in a small factory in Jiangsu Province. In 2012 it moved to a larger site, to then start on the construction from the ground up of this new fully-owned facility, designed for future scalability, as required.
RadiciGroup invested €35 million in the development of the new complex, sited on 36,000 square metres of land, around half of which is occupied by production and research & development facilities. The rest houses offices, meeting rooms, and communal areas, along with gardens and parking areas.
The state-of-the-art complex features the most advanced green building technologies available today, for which it is LEED Gold (Leadership in Energy and Environmental Design) certified. This international standard for high-performance green buildings incorporates parameters such as benefits for the environment and human health, the reduced consumption of water, energy efficiency, and the use of environmentally-friendly building materials and solutions. Notable features of the Suzhou site include the installation of a continuous monitoring system to ensure the energy efficiency of the building, rooftop solar panels to produce renewable energy, and a rainwater recycling system to meet the water needs of the site.
The site has also earned GBL-2 Star certification, a Chinese standard for building sustainability, demonstrating the attention China focuses on green building solutions.
A choice perfectly in keeping with the RadiciGroup's sustainability strategy, designed to build industrial and business growth on the responsible use of resources and a commitment to human rights, labor rights, and individual rights.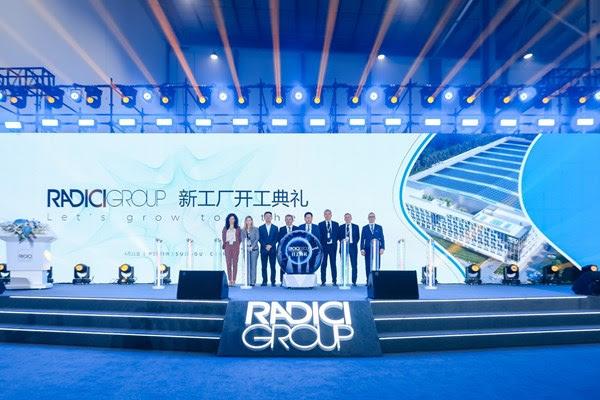 "Working in harmony with the environment and people runs deep in our veins," explains Angelo Radici, President of RadiciGroup. "That's been true ever since the 1940s, when we first opened in Italy as blanket manufacturers, to then diversify our operations and move closer to our customers around the world. Since starting up manufacturing operations in China more then fifteen years ago, we have grown immensely, together with the local market. Our materials are used by customers that in turn manufacture in China to satisfy the needs of local consumers. If years ago there was a shortage of skilled workers, today the Suzhou district is highly developed and people are skilled and specialized in various fields. In our case, that has also enabled us to retain our workers, drastically lowering turnover compared to the past, and so some of the solutions that we research and develop in China become benchmarks for the entire Group, thanks to our international network."