At ITMA 2023, XORELLA, the specialist in steam setting and conditioning equipment for yarns and fabrics, will launch XO AUTOMATION for the double door XO SELECT conditioning machine series, and XO SOLID, a new machine series to complement XO SMART, XO TREND and XO SELECT machines.
XO AUTOMATION
The new XO AUTOMATION system consists of roller conveyor systems for loading and unloading two-door XO Select conditioning machines. Additional pallet wrapping machine with a turntable, weighting station, label printer, safety fence, and security system can complete the system. The XO Select controller and automation system can handle and store individual customer-specific material and packing programmes.
XO SELECT and XO AUTOMATION are designed for yarn steaming on multiple pallet dimensions and heights up to 2,650mm. The linear material flow passing the conveyor and steaming machine avoids any mix between steamed and un-steamed materials. XO AUTOMATION fills the gap between the XO automated moving platform and the fully automated transport system – from the spinning hall to the warehouse.
XO SOLID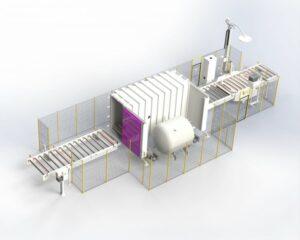 The new cubical XO SOLID combines a high loading space of 1,800mm x 1,700mm x 4, 000mm (H x W x L) through double-row pin trolleys or pallets for easy manual loading of six units on floor level without a pit or platform. XO SOLID is therefore designed for installations on upper floor levels. The new frame design combines all necessary components factory preinstalled on a single frame, for easy 'plug and play' installation at the customer site. Additional smaller steamer dimensions for two and four loading units are also at the planning stage.
The new XO SOLID incorporates all the renowned features of XORELLA machines based on the long-term experience in high-temperature dyeing vessel production of FONG's, including:
A Siemens controller with OPC UA interface and XO data tool for batch storage.
A XO EcoPac waterless claw pump or two-stage water ring vacuum pump.
A high energy-efficient accumulator for steam, electric, and combined heating.
Vessel and piping in world-class stainless steel.
European key components such as pumps, heating elements, valves, and sensors
Established in Switzerland in 1967, XORELLA became rapidly known in the global textile industry for its innovative indirect steaming system. Since 2002 the company has been a member of the CHTC Fong's International Group, and a proud member of SINOMACH Group (China National Machinery Industry Corporation) since 2019.
XORELLA is at stand B106 in Hall 18 at ITMA 2023.