Eliar Elektronik San (Eliar) was founded in Istanbul, Turkey in 1984. It has strengthened the Turkish industry and economy with many devices, systems and software for sectors such as textile finishing, glass, insulation, ceramics and chemistry, and has made important contributions to automation of industrial sectors with its research and development since its establishment. By the end of the 1980s, Eliar started to serve the textile industry by producing machine control devices. The advanced 'batch' control devices designed and manufactured by Eliar for fabric and yarn dyeing as well as garment washing machines automation started to be used in Turkey and abroad since 1989. Since 1996, the company's focus on the textile industry has been expanded and Eliar has started to work on mechatronic weighing and dosing systems.
Eliar has developed liquid and powder chemical weighing and dispensing systems, and thanks to the control devices and automation software, it has delivered projects that integrate with the fabric, yarn dyeing and garment washing machines and the entire factory, ultimately enabling full automatic control and recording of the entire dyeing process. In an exclusive chat, Ata Turgutalp, International Sales and Marketing Leader, while sharing details about the company's participation in ITMA 2023, said, "ITMA 2023 will bring industry professionals, manufacturers, researchers and textile enthusiasts together from all around the world to showcase the latest developments in textile technology and machinery, which is why it is so important for us."
All Geared Up
"Our preparations for ITMA Milan 2023 were flagged off several months ago. Considerable effort has been put forth and we have been working diligently to ensure that all aspects of the event are executed seamlessly. The organizers have also been working to create a detailed layout of the exhibition space and have been coordinating with exhibitors to ensure that all the necessary equipment, machinery, and materials are shipped to the exhibition site well in advance. Our objective is to demonstrate our capabilities to the fullest extent possible and prepare everything in a manner that maximizes visitors' experience," Ata Turgutalp said.
"Visitors to our booth at ITMA 2023 can expect to see our commitment to providing the latest innovative solutions that will help them stay ahead of the competition in the rapidly evolving world of Industry 4.0. We look forward to sharing our expertise and showcasing our industry-leading technologies and cutting-edge automation systems that are designed to increase efficiency, improve the end product quality and repeatability and support the sustainable production goals of the industry. In fact, visitors would gain a lot of information about how sustainability is a core area in textile production today," he elaborated.
Focus on Research and Development
Highlighting the complete product range that the company offers for the global market, Ata Turgutalp said, "Eliar is a global provider of specially designed and developed automation systems for the textile industry. We are renowned for our wide range of products, strong integration power between electronics, mechatronics and software as well as our focus on Industry 4.0. Since its establishment in Istanbul, Eliar has been at the forefront of the complete automation of the textile industry, leveraging years of experience in research and development to create and manufacture machine controllers, sensors, automatic dispensing systems, and software for various industries, including textiles."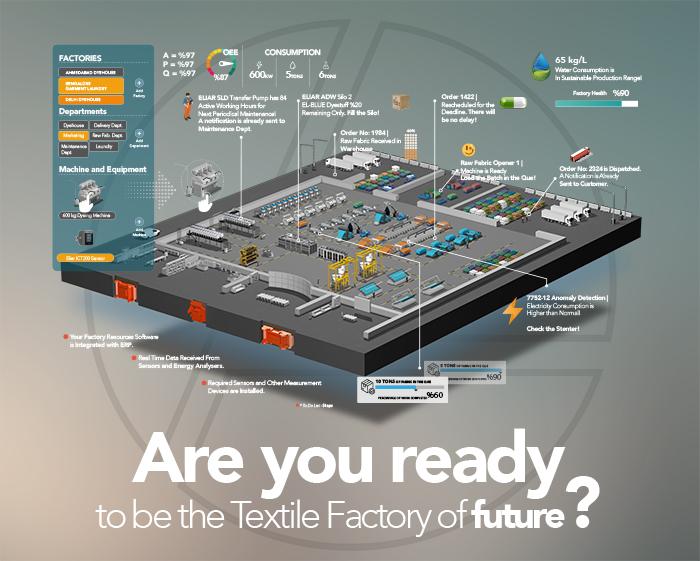 Sustainability
Sustainability besides digitalization will be an important topic of focus at ITMA 2023. Explaining how the company's products and solutions support its customers' sustainability goals, Turgutalp said, "As a company we have long since recognized the importance of sustainability in the textile industry, and we have been committed to it since our establishment. Sustainability has been a crucial aspect of our product development and manufacturing processes as we have observed a growing trend among customers to minimize their environmental footprint," Turgutalp said.
"Consequently, we have been working tirelessly to provide our customers with sustainable products and solutions that not only meet their needs but are also aligned with their sustainability goals. As a result of all these studies, we will be launching at ITMA 2023 our new Eliar 'Digital Factory' concept, which will be providing a revolutionary approach to the industry with its product tracking, process digitalization, and IoT concepts. Across the world, automation and digitalization have become the key factors towards the improvement of manufacturing processes, reducing costs, and becoming globally competitive. And since we have years of experience in these sectors, we are in a position to cater to these emerging requirements," he added.
Ahead of the Curve
Sharing details about the key advantages offered by the company and what sets it apart from the competition, Ata Turgutalp stated, "At Eliar we approach all our customers in a different way: instead of 'selling' a machine we have the motto of serving them as their 'process partner'. Actually, when you provide process automation to your customers, you definitely have to get inside their process, create new pathways aligned with technology and evolve new production methods as every new day brings a new challenge and development in the industry. This is why we offer comprehensive after-sales services, including technical support, maintenance and spare parts' supply in all the main markets."
"Regarding conventional after-sales support, our team of skilled technicians is available to provide on-site support whenever needed, ensuring that our customers' systems are always operating at peak performance. We also offer training programmes in Eliar Academy located in Istanbul in order to ensure that our customers and their staff are fully equipped to operate and maintain our machines. Along with conventional methods of maintenance and after-sales that we are serving to the industry with our experience of nearly 40 years, the source codes of Eliar are based on its research and development studies, which we believe strengthens our base," Turgutalp informed.
"We offer our customers round-the-clock online service including AI technologies and predictive maintenance modules. Furthermore, as a global brand that adopts local market verticalisation strategies and over 40 years of experience in the textile industry, we are able to provide customized solutions to meet the unique needs of our customers. Our systems are designed and manufactured to achieve the highest standards of quality, reliability and sustainability. By choosing Eliar customers can be confident that they are investing in cutting-edge technology and a long-term partnership with a company that is committed to their success," he added.
Global Market Strategies
Pointing out to the key global markets for the company, Turgutalp said, "Actually, Eliar has more than 1,500 automation systems working in more than 45 countries and although we believe that virtualisation is the key to global success, the main global markets that we are dedicatedly focusing on include India, Bangladesh, Uzbekistan and Vietnam. We have established a strong presence in these markets through strategic partnerships with local distributors and by offering world-class automation solutions that are tailored to the needs of each market. As the textile industry continues to evolve and expand, we are also looking towards emerging markets with great potential." "In recent years, we have seen a significant increase in demand for our products and services in Africa and South America where the textile manufacturing sector is rapidly growing and developing," he added
Partnership with Batliboi
"The company is very happy about its successful partnership with Batliboi, which represents it in the Indian market," Ata Turgutalp said. "It has been an exceptional experience for us since our cooperation started with Batiliboi and the agility and support provided by them for our new strategies such as our brand verticalization has been firmly established and still continues in perfect harmony with their contribution. Their dedication and commitment to provide outstanding service and support to our customers is truly commendable. Their extensive network, industry expertise and customer-centric approach have been instrumental in helping us expand our reach and grow our strength in the India market," Ata Turgutalp said on a parting note.