The Eurecat technology centre is taking part in the HEREWEAR project which is driving new material solutions building on the latest bio-based polyesters and cellulose developments. This is part of a holistic approach which seeks to drive an EU market for locally-produced circular textiles and clothing made from bio-based waste.
Some of the first results of the HEREWEAR consortium, made up of 13 partners from nine European countries, have been on show at Eurecat's booth at ITMA (International Textile Machinery) 2023, the leading trade fair for the textile industry held in Milan, Italy.
In the HEREWEAR project, Eurecat is helping to develop sustainable emerging technologies for wet and melt spinning for yarn and fabric making at a semi-industrial scale. It is also involved in environmentally-friendly enzymatic processing for finishing innovation together with coating and colouring bio-based agents.
"Microfibre release will be significantly reduced by measures throughout the textile manufacturing process," says Virginia García, director of Eurecat's Functional Fabrics Unit. She argues that "optimising repair, reuse and recycling management is absolutely crucial."
To this end, various garment prototypes for streetwear and corporate clothing are being designed by connecting up micro-factories organised in regional value-creation circles or through networked and project-compatible production resources.
New materials for the textile industry anchored in additive manufacturing technologies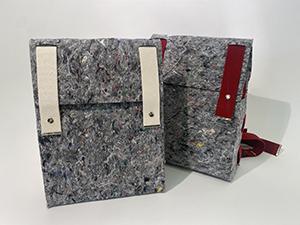 Eurecat has also been involved in the TEXAM project, which has developed new biodegradable composite materials combining biopolymers and materials from various waste materials generated in the textile industry such as wood or bamboo dust and cotton fibres.
One of the main goals is to use and experiment with organic fibres or fibres from recycled textile materials. The materials' biodegradability and recyclability will be mainly determined by the polymeric matrix. The biomaterials can be recycled after use, thus ensuring full circularity.
Biomaterials, recycled materials and functional fabrics
"There is a significant trend towards using new functional and sustainable materials with biodegradable properties generated from renewable sources and recyclable at end-of-life," notes Virginia García.
At the ITMA fair, visitors have additionally seen fabrics with shape memory which make it possible to recover their initial shape and thus minimise deformations which may result from prolonged use.
Eurecat has also shown various products developed with recycled materials from post-consumer textile waste managed by social organisation Solidança/Roba Amiga which helps to add to textile industry circularity.
Reimagine Textile; business and technological innovation
Eurecat is one of the architects of Reimagine Textile, a business innovation programme for the textile industry run in conjunction with Mataró Town Council and TecnoCampus. It is a strategic initiative designed to grow and reinvent the textile sector in Catalonia in terms of innovation, technology and sustainability which provides entrepreneurs, start-ups and companies in the industry with an incubation facility and FabLAB, a textile fabrication and prototyping laboratory, for generating new businesses.
Reimagine Textile is about technology, industry, training, entrepreneurship and investment and is made up of companies, entrepreneurs, technology centres, fab labs, design schools, universities, investors, mentors, incubators, accelerators, consultancies and associations.