Welspun India Ltd. (WIL), a global leader in Home Textiles and part of the US$ 2.3 billion Welspun Group, announced Q1-FY24 results
Revenue from operations rose 11.58 percent to Rs 2,184.05 crore during the quarter under review. It was Rs 1,957.25 crore in the year-ago period.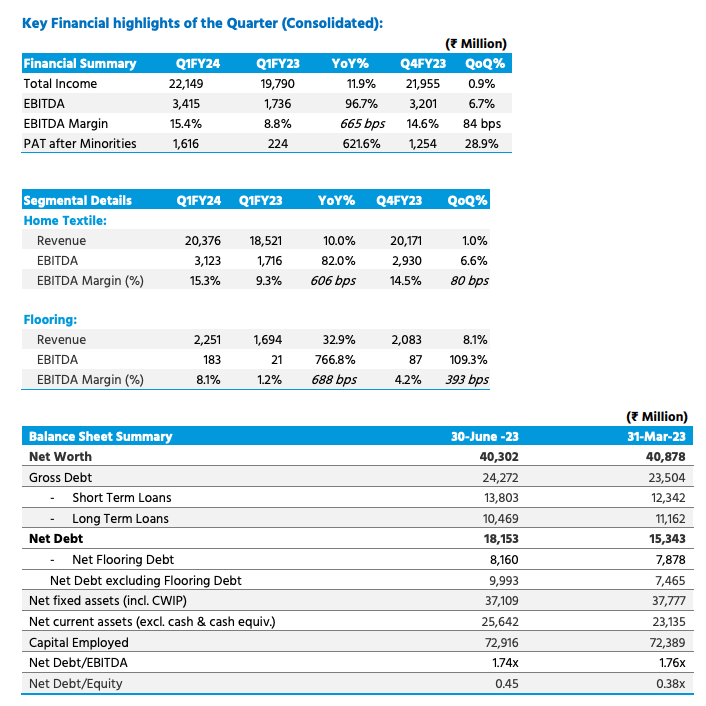 BK Goenka Chairman of Welspun Group commented, "The Company continues to deliver strong performance in Q1 FY 24 with sequentially higher margins, continuing the trend since last few quarters, delivering highest EBITDA margin in last seven quarters. It is also heartening to see Flooring business post its highest revenues during the quarter. All our Emerging businesses, which are our pillars of growth, have shown promising results during the quarter.
The domestic consumer business further strengthened its market leadership, with Brand "Welspun" being the most widely distributed "Home Textile" brand in India, increasing its reach with presence at more than 13000 outlets pan India, in line with our vision of 'Har Ghar se Har Dil tak Welspun'.
At Welspun, Environment, Social & Governance (ESG) is now embedded in every aspect and activity of its operations, I am happy to share that the Company has improved its "Sustainalytics" rating to 11.3, highest among the home textile manufacturers globally and rank among the top 10 out of the 202 participating companies worldwide."
Welspun has also unveiled its new brand identity. The same has been created to recognise and cherish Welspun's hallmark story of bold expansion and growth built upon our strategic diversification forays from B2B to B2C business opportunities.