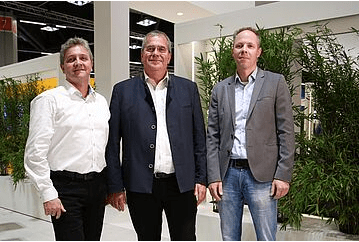 Deep learning for B&R cameras with MVTec and Hailo
B&R is enhancing its smart camera portfolio with powerful deep learning functionality. A three-way collaboration with machine vision software specialist MVTec and AI processor specialist Hailo makes the B&R camera a powerful and efficient edge device. At the SPS trade show in Nuremberg, the companies celebrated the first function to come from their joint project.
Machine vision algorithms based on deep learning are opening up exciting new ways to improve quality, boost productivity and prevent waste while making manufacturing more flexible. "Our collaboration with MVTec gives machine builders access to the best selection of the best performing vision functions around," says B&R's machine vision expert, Andreas Waldl. "They're an industry leader in both deep learning and classic rule-based algorithms – two complemental approaches that each play an essential role in machine automation."
Speed reader
The first product to emerge from the project is a deep-learning-based optical character recognition (OCR) function. Called Deep OCR, it achieves remarkably fast read rates, even on fonts that are otherwise difficult to recognize. "For many years, we have been working together with B&R to develop machine vision solutions for customers that set technological standards, especially for embedded systems," says Thomas Hopfner, product manager for licensing and interfaces at MVTec. "This goal is also being followed by our latest cooperation. As a result, customers benefit from the advantages of the deep learning technology Deep OCR without having to sacrifice performance."
TOPS-per-watt winner
High-performance deep learning algorithms require a powerful processor. Yet, implementation as an edge device also made power consumption a critical issue. Today's machine builders need not just computing speed but also power efficiency, and that is where Hailo comes in: in addition to world class performance of 26 tera-operations per second (TOPS), the company's inference accelerators also require remarkably low power consumption. "Hailo helps us put truly groundbreaking speed and intelligence right where our customers need it for their fastest and most adaptive manufacturing solutions," says Waldl.
"This kind of collaboration is exactly what we had in mind when we started Hailo," says Hailo CEO Orr Danon. "The new B&R camera harnesses Hailo's top-performing AI accelerator, and in combination with their state-of-the-art edge devices and MVTec's advanced machine learning algorithms, we are setting new performance standards that will improve productivity and enhance quality in industrial applications."