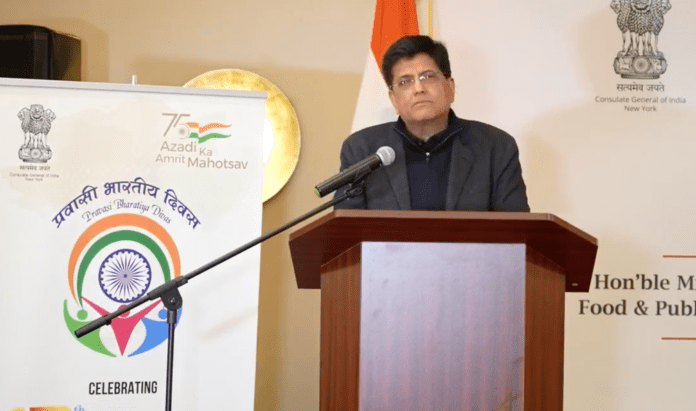 Union Minister for Commerce and Industry, Consumer Affairs, Food and Public Distribution and Textiles, Shri Piyush Goyal today called upon Indian diaspora to contribute and shape the contours of New india, an India that will lead to global growth and is destined to become a Vishwaguru. He was addressing the Indian community at an event in New Jersey, US.
Applauding Indian Diaspora for their outstanding contribution overseas, Shri Goyal said they are the torchbearers of the India Story. He said that it is a matter of pride that Indians have contributed through India's rich traditions and culture that helped Indian diaspora lead large corporations and have contributed to the economic well being of several countries. He highlighted that India is truly recognized and respected across the world due to the achievements of the Indian diaspora. He also stressed that the World today looks up to Prime Minister Shri Narendra Modi as the most popular and tallest leader in the World. Speaking about the G20 Meeting that was held in Bali Indonesia, Shri Goyal said it was the efforts and leadership of PM Modi in the Leader's summit that brought all the leaders on one page to agree on a collective declaration.
Expressing his delight at celebrating Pravasi Bhartiya Divas (PBD) with the Indians residing in New Jersey, Shri Goyal said that PBD, that was started by the former Prime Minister of India Late Shri Atal Bihari Vajpayee, is a occasion to celebrate all Pravasis and recognize their contribution. He appreciated Indians residing in America for maintaining and keeping the Indian tradition, culture and value system alive. He further added that Indians look up to overseas Indians residing in different countries as ambassadors of India.  Appreciating the fact that over 90 out of 1078 founders of about 500 Unicorns in USA are persons of Indian origin, Shri Goyal said the Indian diaspora has clearly demonstrated tremendous capacity through their work across different areas of healthcare, hospitality, journalism, technology, management. Quoting Atal ji, who had said – "Success of every category of our immigrants all over the world testifies the indomitable spirit carried from the Indian soil", Shri Goyal said this spirit of service represented by the Indian community is celebrated  in PDB.
Quoting PM Shri Narendra Modi that "mere incremental progress is not enough, today a metamorphosis is needed", Shri Goyal said transformational reforms that India witnessed over the last few years have made India a world's 5th largest economy. He expressed confidence that in a few years from now India will be the third largest economy.
The Minister said both the US and India are vibrant democracies, both have strong linkages, geopolitical ties, huge interest in Business and economic well being of both countries. Shri Goyal said that Diaspora would continue to act as a living bridge between India and the USA.
Speaking about Azadi ka Amrit Mahotsav that is being organised to celebrate 75 years of India's independence, Shri Goyal spoke about the grand success of Har Ghar Tiranga drive across the length and breadth of the country stating that each and every home, every shop, office had a Tiranga unfurled demonstrating India's unity in diversity.  Shri Goyal referred to PM's clarion call of 5 Prans in his Independence Day address to the Nation last year, Shri Goyal said these Prans reflect the collective aspiration of 1.4 billion Indians, to make India a developed and prosperous nation by 2047. He encouraged everyone to aspire to prioritise these Prans as their mission and become a part of India's journey to become a developed nation in the next 25 years.
Shri Goyal said during covid pandemic India faced all the challenges head on with grit and determination and converted those challenges into opportunities. India today has 6 indigenously developed covid vaccines, ramped up health infrastructure.  India also rebounded quickly after the lockdown. He also mentioned that last year India witnessed phenomenal achievement in terms of growth, FDI, exports. He also said that over the last 2 and a half years, the government continued to provide foodgrains to 800 million less privileged Indians ensuring not a single Indian sleeps hungry.
Shri Goyal highlighted that today India is the land of opportunity and expressed confidence that the diaspora will continue to contribute to make India a great superpower. India offers huge opportunities due to its large domestic consumption demand, democracy, rule of law, and transparent economy. He urged everyone to take this message to the world that India can be your trusted partner- in supply chains, investment portfolios, in your business.
Shri Goyal concluded by giving few calls for action :
Encourage everyone to aspire to bring high quality in everything that they do.
Buy India made products- handlooms/ handicrafts for gifting needs/ festive occasions.
Present India investment opportunities to investors in the USA.
Contribute to India's growth story through a great degree of philanthropy, knowledge transfers and taking innovation  to India.