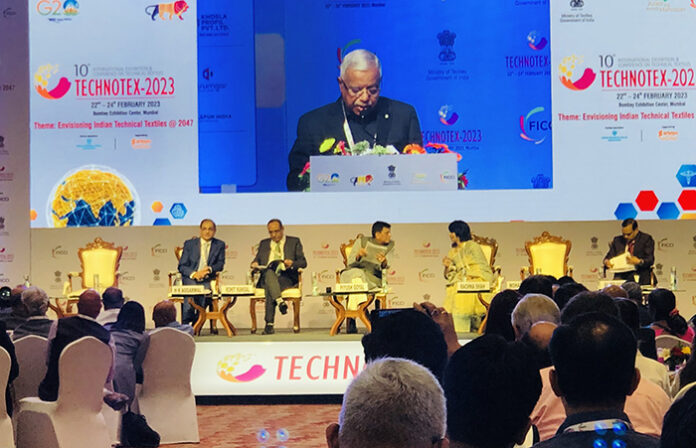 Mr. Piyush Goyal, Minister of Commerce & Industry, Consumer Affairs, Food & Public Distribution, Textiles, Government of India today said, "This is the right time for us to look at growth, scale, and speed. The world wants to see India in the resilient supply chains. Today is the time to capture the world market and India will play a major role in the global economy."
Addressing the 10th edition of Techotex'23, organized by the Ministry of Textiles, Government of India and FICCI, Mr. Goyal, said "By 2047 the technical textile industry should be $100-125 bn strong. If we accelerate, we can aim for $200 bn." "The Indian Technical Textile market will grow more than 10-12% if we are able to showcase its usages for alternate purposes," he added.
The Minister said that given the vast range of usage for technical textiles, this is the area of the future. "I appeal to startups and large corporations to consider expanding rapidly in the technical textiles field. Our global market share is about 2.5%; I believe the Indian market will grow faster than 12% if we can showcase its purposes."
"The direction for India is to become an international player playing an integral role in the global supply chain, something that no country has done. We have to integrate our economy with those of other developed countries to reach our potential and the desire of our young population," he added.
While emphasising the G20 Presidency Opportunity, he recalled the 5-F Principle of Farm to Fibre to Factory to Fashion to Foreign espoused by the Prime Minister as the way forward for the industry. Highlighting the Rs. 1,480 crore National Technical Textile Mission, the minister urged the industry and other stakeholders to examine what new research, new compounds, fabrics, composites, and final products can be leveraged to capture the global market, offering all eight Textile Research Associations and other government institutes to support any private sector initiative that will get high-quality scientific rigour into your innovations and fast track their proposals.
Ms. Rachna Shah, Secretary, Ministry of Textiles, Government of India, said, "It is gratifying to note that the response to Technotex'23 has been very encouraging, with more than 150 exhibitors and more than 250 buyers from more than 30 countries. We are confident and focused on the overarching vision of making India a hub for technical textiles."
"The government is working on the National Technical Textiles Mission and standards and quality. The Production Linked Incentive Scheme has generated a good amount of interest, which is expected to bring in roughly Rs. 10,000 crores in the technical textiles sector," she added.
Mr. Rajeev Saxena, Joint Secretary, Ministry of Textiles, Government of India, said there were special stalls by DPIIT, Textile Research Association, and Centre of Excellence highlighting Make in India to the world. He further emphasized that seven technical sessions were held to chart a way forward toward the vision of Technical Textiles in 2047.
Mr. H K Aggarwal, Member National Executive Committee, FICCI and Managing Director, Grasim Industries Limited, said, "The Indian technical textile market is expected to grow at 8%-10% per year, while the government and the industry are working hard to accelerate this growth rate to 15% – 20% per year."
Mr. Aggarwal further added that initiatives such as the National Technical Textile Mission would boost the textile sector in India, accelerating the momentum of growth. Noting that the technical textiles industry encompasses many applications and sectors, he said each application has a unique value chain.
Mr. Mohan Kavrie, Chairman & Mentor, FICCI Technotex SME Organizing Committee & Chairman, Supreme Nonwovens Industries Pvt Ltd, delivered the vote of thanks and wished the exhibition success.
The 10th edition of Technotex 2023 was organised on the theme of 'Envisioning Indian Technical Textiles@2047' with a focus on highlighting the current trends, developments, challenges and prospects of the industry. The three-day conference and exhibition have a participation of over 150 exhibitors and more than 250 buyers from more than 30 countries including Taiwan, Germany, Switzerland, South Africa, Korea, Russia and Luxembourg; providing them with an opportunity to showcase their latest technologies in the arena of technical textiles to over 5200 visitors in two days.