Wald, Switzerland, 25th April 2023 – A new fully-automated solution for electronic warp feeding of narrow fabrics is being presented for the first time at ITMA 2023 by Crealet, the Swiss world leader in the field. The new KAST ERC system is designed to offer the best results in quality, productivity, and profitability.
Crealet's mission is to empower high-performance weaving with a consistent high-quality level. Minimum faults can only be achieved with optimum warp feeding. Its warp supply options – for beams or creels – focus on the key areas of maintaining constant warp tension and reducing thread breaks. The new KAST ERC (Electronic Rope Control) solution builds on Crealet's unrivaled expertise and innovative know-how to raise productivity and optimize automation for narrow fabric weavers through ingenious tensioning concepts.
Enabling best narrow weaving through technology
The key to the innovation is the realization that the warp beam does not need to be driven, as the warp tension is sufficient. So the beam needs only to be braked to maintain correct tension. Until now, this was often accomplished with weight-loaded rope brakes. However, this meant the weights had to be changed as the beam diameter reduced. To avoid this unproductive task while also keeping warp tension constant from full to empty beam, the fully-automatic KAST ERC solution was developed.
With KAST ERC, warp tension is monitored with load cells or alternatively with indicative distance sensors. The control unit shows either the tension or the position of the pendulum. Many functions of the established Crealet BLDC control unit – highly appreciated by customers – were additionally adopted for this control method.
In fact, the BLDC was the Crealet highlight at ITMA 2019 in Barcelona. Specially developed for narrow weaving, this control met the highest demands for precision and dynamics, with its capability to adapt quickly to customer and product requirements. Future-oriented advantages included reproducibility of production data, traceability of the production and process data, fabric data storage, and network capability. Together, these features brought the ability to drive digital transformation in narrow weaving.
Seeing is believing
The KAST ERC was engineered to achieve increased fabric quality and productivity. The new warp tension control for ribbon weaving machines offers even more advantages – such as reducing labor costs by simplifying warp tension adjustment and facilitating repeatability.
Visitors at ITMA 2023 can see the KAST ERC in action at the Crealet booth (B306 in hall 6). The new warp tension control system is connected to a Jakob Müller MD narrow fabric loom for producing slings, luggage belts, lashing straps, and other medium-heavy belt applications.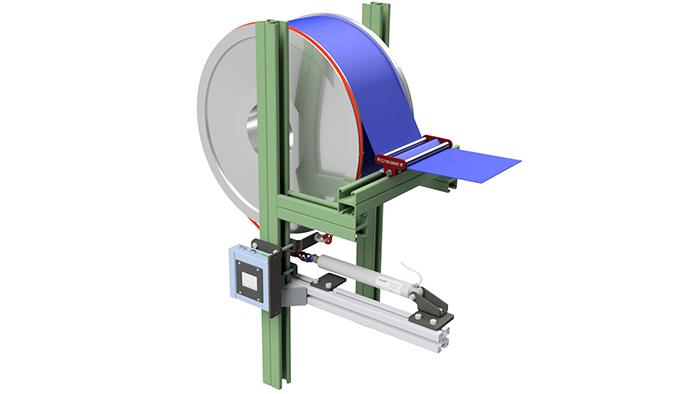 Crealet experts at the show will welcome detailed questions about KAST ERC. The comparison of the actual and setpoint tension values can be seen on the display of the ERC control. Weavers will be convinced that the constant changing of tensioning weights and controls are no longer necessary with Crealet's latest innovation.
Crealet looks forward to welcoming visitors at ITMA from June 8 to 14 and sharing knowledge and experience. It's also the chance to meet new Crealet CEO Andreas Wirz and see former CEO Walter Wirz for a chat.
The profitable option
For solutions to the multiple requirements of modern warp feeding, Crealet is the ideal partner. If an existing system needs uprating, all the warp tension control systems from its portfolio can be supplied as retrofits. Even the new KAST ERC is the ideal upgrade for both new and older machines. Crealet solutions offer real competitive advantages – and its expert personnel has the know-how and experience to optimize machine efficiency and fabric quality for customers.
A real extra value is Crealet's commitment to devise specialized solutions for every customer, tailored to each individual business. As the world leader in electronic warp feeding systems for both wide and narrow fabric weaving, Crealet offers a strong foundation for the success of their systems, thanks to strategic partnerships with top technology providers since 2003. "It's our mission to enable customers to realize their creative ideas now and in future," says Andreas Wirz, CEO, Crealet.