BSL, a pioneering company in the textile industry, operates a fully integrated unit that encompasses spinning, weaving, processing, and manufacturing capabilities using state-of-the-art technologies sourced globally has published its audited financial results for the Q4 & FY23 ended 31st March 2023.
Financial Performance Q4 & FY23 (₹ in Crore):
For FY23
Total revenue stood at ₹471.7 Cr., Up by 8.2% on a YoY basis
EBITDA stands at ₹53.4 Cr., Up by 33.8% on a YoY basis
PAT for the quarter is ₹16.9 Cr. with a PAT Margin of 3.58%, Up by 47.3% on a YoY basis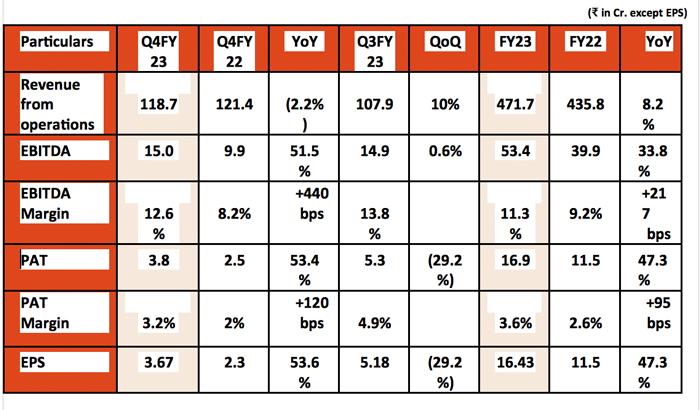 Commenting on the results, Mr. Nivedan Churiwal, Managing Director of BSL Limited said, "In FY23, we faced significant challenges such as historically high input costs and a slowdown in key global markets. However, we are pleased to announce that our businesses demonstrated improved performance, resulting in an 8.2% YoY revenue growth with EBITDA amounting to ₹53 Cr. and an EBITDA Margin of 9.2%, representing a ~34% increase on a YoY basis. Additionally, our PAT stands at ₹17 Cr. with a PAT Margin of 2.6%, showing a significant improvement of 47% on a YoY basis. During the year, we were able to mitigate the impact of increased cotton prices and ocean freights, thereby improving our bottom line. Our cost rationalization efforts and diversified product portfolio were also crucial in achieving these results.
Although the global economy is still experiencing a slowdown, and customer sentiment remains subdued, we remain committed to our long-term strategy of achieving profitable growth. Our focus on innovation, high-quality products, and exceptional service enables us to stand out in the marketplace. While it may take some time for normal demand to return, we are confident in our ability to continue delivering value to our customers and achieving our goals."