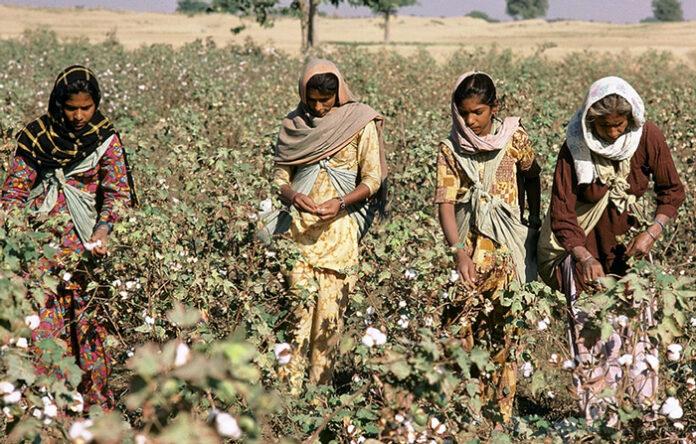 Cotton prices have declined by nearly nine per cent in the past two weeks as growers have begun to bring their produce they had held back over the past few months to the agricultural produce marketing committee (APMC) yards.
"Farmers in various States have changed their minds and are looking to sell their stocked kapas (seed cotton). Arrivals of kapas in May are at a new high and are expected to continue until the end of June," said Anand Popat, a trader in cotton, yarn and cotton waste from Rajkot.
"Daily arrivals of cotton have increased to one lakh bales (170 kg each) over the past few days. Demand for yarn is negligible and its exports have been affected by the recessionary trend. Demand for cloth too is slack," said Ramanuj Das Boob, who sources cotton for spinning mills, multinational companies and exporters from Raichur, Karnataka.
Panic strikes?
According to data from Agmarknet, a unit of the Agriculture Ministry, cotton arrivals are at a 9-year high of 1,82,572.67 tonnes (10.73 lakh bales) so far this month. In 2014, when India produced a record high crop of 398 lakh bales, arrivals in the same period were 2,36,800.48 tonnes (13.93 lakh bales).
"Daily arrivals of kapas ranged 90,000-110,000 bales per day last week, with total arrival being 7 lakh bales," said Popat.
"Panic has struck the market. There is no demand for yarn or cloth. No one is buying cotton too. Production seems to be in excess," said Sachin Jhanwar, a yarn processor.
"Due to sluggish demand continuing across the value chain, cotton prices are moderating in line with the same trend," said Prabhu Dhamodharan, Convenor, Indian Texpreneurs Federation (ITF).
Hoping for more
Currently, the price of processed cotton (lint) is ₹56,900 a candy (356 kg) compared with ₹62,200 two weeks ago. On the Multi Commodity Exchange, June cotton contracts are currently quoting at ₹58,120 a candy.
Kapas prices at Rajkot APMC are ruling at ₹7,175 a quintal, down from ₹7,950 two weeks ago. On the InterContinental Exchange (ICE), New York, cotton July contracts are ruling at 84.27 US cents a pound (₹56,625 a candy).
Cotton growers had held back their produce and stored it in the backyards and on terraces this year hoping for prices to increase. They were unwilling to sell even when prices ruled at ₹8,000 a quintal against the minimum support price of ₹6,080 as they got prices over ₹10,000 last season.
Growers in Karnataka and Maharashtra held back their produce for the first time apart from Gujarat farmers who usually hold back their produce for the lean arrival season starting April.
"While cotton prices have dropped to the levels of ₹57,000 in India, they are ruling at ₹67,000 in China," said Jhanwar.
Difficult to judge crop
"There is some parity in prices for export. It will start picking up now," Popat said. So far, 11.50 lakh bales of cotton have been exported and shipments are expected to plunge to 19-year low of 23 lakh bales this season to September.
"Since last week, the ICE market has been ruling strong even as Indian cotton prices have been declining on a daily basis. On MCX, too, the bearish trend prevails," said Das Boob.
"We have to try and increase exports to 30-35 lakh bales if the situation has to change," Jhanwar said.
"Across the value chain, textile companies are operating at lesser capacity utilisation levels. Hereafter, cotton prices will align with real demand factors like apparel exports," Dhamodharan said.
"Looking at the current arrivals trend, it is difficult to judge the crop based only on the inflow into APMC yard and kapas held back by farmers in Maharashtra and Gujarat," Das Boob said.
This will also make it difficult to predict the volume of cotton likely to arrive as ginners and traders are holding huge stocks of 30-35 lakh bales, he said.
MNCs building inventories
The Committee on Cotton Production and Consumption, a body of all stakeholders, has estimated the crop for the current season (October 2022-September 2023) at 327.23 lakh bales but a section of the trade pegs it higher at over 340 lakh bales. However, the Cotton Association of India, a body of traders, has pegged it lower than 300 lakh bales in its latest estimate made this month.
Jhanwar said many were carrying cotton and yarn stocks that were over a year old. "I have been holding a good quantity of yarn and a lakh bales of cotton since last year," he said.
Das Boob and Popat said currently, multinational trading companies were buying cotton. "Spinning mills are having cotton stocks for 45 days. Cash-rich mills are having stocks for 70-90 days," Das Boob said.
"The situation looks favourable for these trading firms which had sold in the forward market and are now covering stocks. The price drop is helping them too," said Popat.
Sowing may rise
"Over the next three months, we could witness some quantities of cotton being imported from Australia, Brazil and the US," said Das Boob.
"The market developments this week will be crucial and then the focus will be on the US," Jhanwar said.
"We are witnessing some pockets of recovery in some home textile products due to exhaustion of inventory with retailers. At the same time, we are expecting a steady state of order flow for apparels which is a large portion of our export basket from October," Dhamodharan said.
Despite the drop in prices, cotton sowing will increase this year, though mills will likely curb production in the months to come if the current trend continues, Das Boob said.