The focus of circular knitting machine manufacturer Mayer & Cie. at this year's ITMA was on solutions to make its machines even better, more durable and thereby more valuable. This target is also served by the company's digitization services. Consolidated under the knitlink umbrella, they are currently the Webshop my.shop, my.monitoring, and  my.service. The prerequisite for a machine's knitlink capability is the Control 5.0 machine control system, which all new machines will be equipped with from 2024. In addition, knithawk, an AI-assisted optical error recognition tool, will ensure more efficient production of Mayer & Cie. circular knitting machines.
"Over the past four years we have again worked intensively on knitlink," says Sebastian Mayer, head of development at Mayer & Cie. and the circular knitting specialist's chief digitizer. "The platform's services form part of an overall technical and organisational concept that enables us to make our circular knitting machines and their production more transparent for the user, more efficient and thereby more valuable." 
Prerequisite for access to world of digital circular knitting: the Control 5.0 machine control system
In order to make use of knitlink services machines must be equipped with the Control 5.0 machine control system. Control 5.0, both as an upgrade and from next year in all new machines, is available in two versions. In the standard version SmartControl a so-called smart knob is attached to each foot of the machine. From there all functions are available that a machine operator needs for his work.  
Farther-reaching settings that the line manager might like to use can only be made from a mobile device that makes the line manager location-independent. With this device he can operate an unlimited number of Mayer & Cie. machines simultaneously.  
In the ClassicControl version Control 5.0 is fitted to the machine as a monitor and the machine can only be controlled from that location.  
knitlink: Starting point for new lines of business
knitlink is Mayer & Cie.'s Web-based customer and machine portal. It is the hub for all circular knitting machine information and services. At present, knitlink consists of three components: my.monitoring, my.shop and my.services. my.monitoring records all of a circular knitting machine's production data, including its efficiency, its speed, and any notifications. With this data users can analyze and optimize the performance of their machine park. my.service is the tool that facilitates the remote maintenance of circular knitting machines which saves a great deal of time where technical and above all electronic issues and software updates are concerned. my.shop is the Webshop from which components, consumables and upgrade kits can be ordered. Customers can use my.machines function to register their Mayer & Cie. machines with the shop and are then shown only the matching parts, which saves time when searching and ordering.  
The Web shop is open to all. Customers who want to use it don't need to be knitlink users.  
Knithawk nips knitting errors in the bud
A circular knitting machine is enormously productive. It rotates up to 50 times per minute and produces up to 40 kilograms of fabric per hour. If a knitting error occurs due, for example, to alien influences in the yarn, metres and metres of unusable fabric may be produced because material has in the past often not been inspected until the machine has been set up and/or the knitting process has been completed.  
knithawk, an optical error recognition tool, kicks in earlier: in the machine, at the point of knitting. knithawk is compact. The camera unit that "scans" the knitwear by means of infrared light, is quickly installed. If knithawk spots a serious or recurring error the machine is stopped and the tool compiles an error protocol.  
In this way knithawk can prevent knitting errors from running through metres and metres of fabric and resources such as water, natural fibres, polyester and energy are not wasted.  
A sound choice: Mayer & Cie. is a step ahead of the competition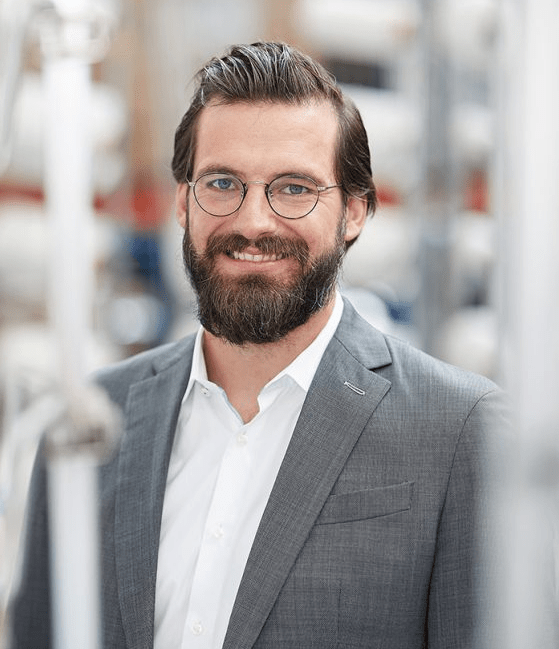 "At our digital ITMA presentation we unveiled a 'package' that carries conviction," says Mayer & Cie. Chief Digital Officer Sebastian Mayer. "We have received extremely positive feedback from our customers, showing that we are well on the way to doing justice to our claim to technology leadership in the digital sector too."